Introducing LoadNG Bills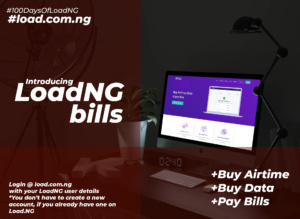 In the spirit of #100DaysOfLoadNG, It is my pleasure to announce the Commercial Launch of the much anticipated LoadNG Bills.
With LoadNG Bills, users on the LoadNG platform can now get cheap mobile airtime, cheap data, do airtime to cash swap as well as pay other bills in a Fully Automated manner via www.load.com.ng (Note that you dont need to register again if you already have an account on Load.NG, just login and enjoy).
The core motivation of the LoadNG Bills platform is Simplicity and fantastic user experience, we hereby invite you to signup on www.load.com.ng (If you don't have an account already on Load.NG) today, send in your username and get recharged free of charge. After you get recharged, kindly use the recharge on the platform (bonus expires tomorrow) and drop us a comment with regards your experience of the platform.