LoadNG has announced that its customers can now sell bitcoin for cash in Nigeria instantly  from all wallets and get paid instantly with no human input on the fully automated best platform for buying cryptocurrency.
This was disclosed in a press release by the product marketing officer of the company in Lagos. Mr Adepoju Segun reiterated that the need to enable users to sell bitcoin in nigeria  more than just their paxful coin has become really incessant, he however noted that not only blockchain bitcoin can be sold, but bitcoin from other platforms so far it'll be recognized on the blockchain and the system convert the bitcoin to naira instantly.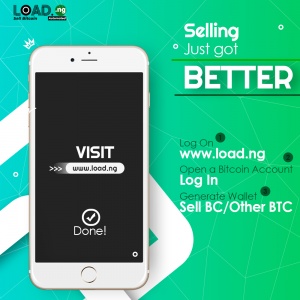 This system requires you to generate a unique wallet from the best online crypto trading platform: LoadNG ,tap to copy the wallet or scan the barcode, then send your bitcoin to the generated wallet address which reflects immediately on your LoadNG.